When it comes to picking out furniture for your new home, there are several options to fit your taste. Rattan furniture, however, seems to be the most popular choice right now. It has easily become one of the biggest trends in outdoor and indoor décor and design, and you won't have to search far to see it adorning gardens and outdoor venues.
Rattan Furniture Pieces Worth Buying
With structure and surprise at the forefront of design for 2022, rattan furniture has swiftly become one of the biggest trends in the world of décor, and you won't have to go far to see it adorning homes and outdoor locations worldwide. 
Accent Decor
Rattan is quite versatile and can be used for a variety of purposes, including furniture, mirrors, chairs, headboards, and lampshades, to mention a few, but one particularly popular option that is both functional and stylish is rattan shelving. 

Perhaps the greatest benefit of buying a rattan shelf is its hard-wearing nature. This means the shelf will last a long time and provide beautiful wall decor for many years to come. They're usually made of wicker rattan, which is a material that's closely related to bamboo but much stronger.
Rattan shelving units can come in many different shapes and sizes, from small, delicate models that are perfect for holding trinkets and collectibles to large, sturdy frames that can support a TV or other heavy objects. They can also be decorated with a variety of different items, such as vases, plants, books, and photos.
Hanging shelves in particular are one of the most popular ways to style rattan furniture. They're attached to the wall with brackets or screws and can be hung at different heights to create an interesting look.
On the outside, the classic rattan shelf has a natural and rustic look that can complement any décor style, but it can also be painted or stained to match the rest of your furnishings. Its warm, earthy tones make it an excellent choice for homes with a cozy or country feel, but it can also be used in more contemporary settings.
Lighting Fixtures
Rattan is a strong fibre with texture and colour that works well for light fixtures. Furthermore, the rattan weave allows light to pass through, providing a mellow diffused glow or a beautiful grid-like light pattern. 

Rattan light fixtures come in a wide range of styles, and it's difficult to stay up with the latest rattan trends and fashions, mostly because there are so many different woven styles and colours. But the most popular are rattan pendant lights because they provide a lovely focal point as well as organic texture to a white space.
Patio Furniture
Rattan has been very popular among the patio decor trends these days, and when it comes to outdoor rattan furniture, there are two varieties: synthetic rattan and natural rattan. Synthetic rattan is a plastic substance that has been made to look like the real thing. It has grown increasingly widespread in the contemporary day due to developments in production, but it does not give the same wide-ranging benefits that real rattan does.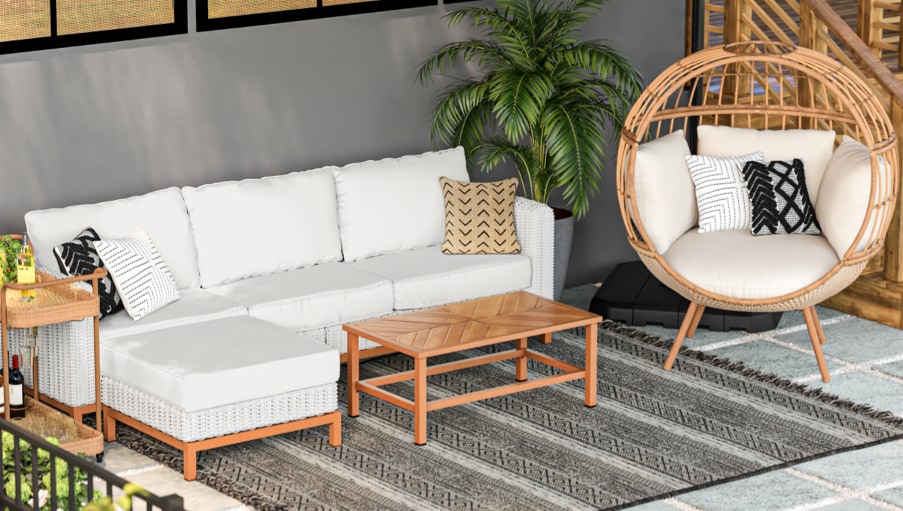 Natural outdoor furniture is composed of rattan with a wicker weave and is suitable for both indoor and outdoor environments such as conservatories and orangeries. It is one of the most adaptable furniture materials available and is often regarded as a high-end source for outdoor furniture. Natural rattan furniture has several significant advantages over synthetic rattan furniture, including lifespan, durability, elegance, and much more.
Headboards
When it comes to choosing the headboard for your bed, you have a number of options: Some people like cushioned furniture, while others prefer the aesthetic of reclaimed wood like rattan. There have been so many pieces of rattan furniture mentioned, so it appears to be an excellent choice for use in the bedroom to create a relaxing and magical hideaway. 
That's why there are so many lovely rattan beds and headboards available. From bohemian to classic. Scandinavian and Japanese influences to modern and contemporary. Rattan beds may be incorporated into practically any bedroom area and design.
How to Maintain Rattan Furniture
One of the greatest features of rattan furniture is its minimal upkeep. You work hard all week and want to spend as little time as possible on housework so you can spend your free time doing activities you like. Because rattan garden furniture does not require extensive cleaning, you do not need to commit significant cleaning time to keep it in a good shape.

A rattan piece just requires an occasional clean-down with mild warm soapy water to eliminate any minor dirt stains that form over time. Once you've finished washing the rattan, place it in an open area to dry naturally. There are various other treatments that may be used to restore the rattan itself, but they are not required purchases